English Information
Welcome to Itami City Museum of Insects. Opened in November 1990, this museum has been established in the wonderful natural environment of Koyaike Park so that people can learn the environment and its relation to human life by finding out about insects and other living things.
This museum covers about 3,000 square meters, and has the newest facilities for nature study such as a butterfly farm, movie hall, exhibition room for insect ecology, special exhibition room and study room. We hope that, through the study activities at this museum, people will not only increase their knowledge of insects but also learn scientific methods of understanding and expand their appreciation of nature.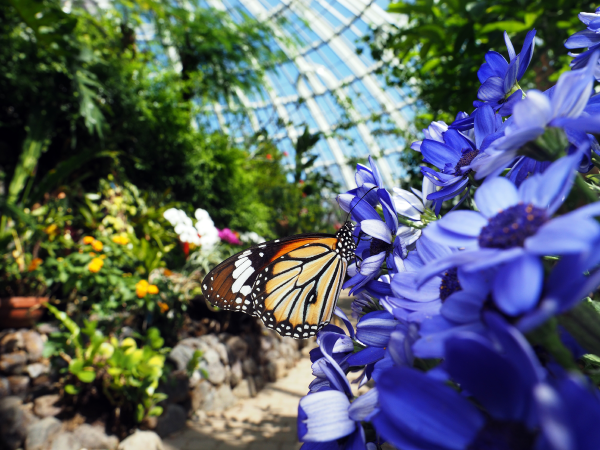 Facilities
Butterfly Farm

In this tropical greenhouse there are flowers of many colors and shapes. If you watch them closely, you can see which butterfly flies to which flower to suck its nectar or lay eggs. You will be able to spot common mormon, blue grassy tigers and indian leaf butterflies, all from the southern part of Japan. To be friends with butterflies, you have to know them first.

Exhibition Room One

The tiny world of insects – it is so small that unless we watch closely we see nothing. But wherever there is single tree or blade of grass, woodland or waterside, there is always insect's life. In this exhibition, insects and their habitat are displayed enlarged ten-fold in a diorama, and the visitor can discover each insect in its own habitat. One such display features a honeybee magnified to 2.4 meters long. Enlarged 200 times, even a very small insect reveals the complexity and efficiency of its body. How does the world look through the eyes of a honeybee?

Exhibition Room Two

Insects familiar to the people of Itami are displayed in the context of their environmentÑütown, farm, riverside, pond,or woodsÑübased on the work of amateur researchers and study groups.

Study Room

The study room stocks books, other written and visual materials, and collection of insect specimen and other examples of nature. Thus it functions as a local center for naturalists.

Special Exhibition Room

There are great many different kinds of insects on our planet. Giant ones, very tiny ones, vividly colored ones, ones that looks exactly like leaves or the bark of a treeÑüthe existence of such variety is almost beyond our imagination. A range of insects from all over the world is gathered in this room.

Movie Hall

The Mysterious ecology of insects and nature world, displayed on a 180-inch giant screen, is full of excitement and fresh surprises. Shows take place every day at 10:30,11:30,13:30,14:30 and 15:30. Each program lasts for about fifteen minutes and differs according to day and time. This hall is also used for orientation, speeches and seminars.
General Information
Admission Fee

Adults: YEN 400
Junior high and high school students: YEN 200
Children: YEN 100
Groups of more than 20 people 20% discount

Open

Daily 9:30 – 16:30

Closed

Tuesdays (Wednesday, if Tuesday is holiday)
December 29 to 31, January 1 to 3
On certain other occasions, the museum is closed temporarily.

Address

3-1 Koyaike, Itami-shi, Hyogo 664-0015

Telephone

072-785-3582

Fax

072-785-2306
Koyaike Park
Located in the center of Itami City in Hyogo prefecture, Koyaike Park has been there for 1250 years fostering rich natural environment. Its nature pleases our eyes in each four season through flowers, insects, birds and others, and is a valuable treasure for us living in the city. Thousands of ducks, which fly in from north in winter and mute swans living in the park, are the symbols of the city.